Review article
Open Access
Current approaches of the management of mercury poisoning: need of the hour
DARU Journal of Pharmaceutical Sciences
2014
22:46
Received: 3 December 2013
Accepted: 14 May 2014
Published: 2 June 2014
Abstract
Mercury poisoning cases have been reported in many parts of the world, resulting in many deaths every year. Mercury compounds are classified in different chemical types such as elemental, inorganic and organic forms. Long term exposure to mercury compounds from different sources e.g. water, food, soil and air lead to toxic effects on cardiovascular, pulmonary, urinary, gastrointestinal, neurological systems and skin. Mercury level can be measured in plasma, urine, feces and hair samples. Urinary concentration is a good indicator of poisoning of elemental and inorganic mercury, but organic mercury (e.g. methyl mercury) can be detected easily in feces. Gold nanoparticles (AuNPs) are a rapid, cheap and sensitive method for detection of thymine bound mercuric ions. Silver nanoparticles are used as a sensitive detector of low concentration Hg2+ ions in homogeneous aqueous solutions. Besides supportive therapy, British anti lewisite, dimercaprol (BAL), 2,3-dimercaptosuccinic acid (DMSA. succimer) and dimercaptopropanesulfoxid acid (DMPS) are currently used as chelating agents in mercury poisoning. Natural biologic scavengers such as algae, azolla and other aquatic plants possess the ability to uptake mercury traces from the environment.
Keywords
Mercury compoundsChelating agentsPoisoningGold nanoparticlesNatural biologic scavengers
Introduction
Mercury (Hg) atomic number 80, is a liquid metal at room temperature and pressure. Mercury freezes at -38.9°C and boils at 357°C. It is sometimes called quick silver and is easily alloyed with many other metals, such as gold, silver and tin[1]. It exists in the environment in three forms: elemental mercury (poisonous as vapor), organic mercury (methyl mercury and ethyl mercury) and inorganic mercury (mercuric mercury) and all these forms have toxic health effects[2].
In recent years, due to abundant availability of various chemicals, the rate of intoxication has been surprisingly increased[3, 4]. People can overuse or misuse drugs, chemicals, and may get poisoned intentionally or accidentally[5, 6]. Similarly, heavy metals, either released from natural sources or from industries wastes pose a consistent health threat to human being[7].
Mercury could be found in different commercial forms[
8
]. Mercury and its related compounds are being circulated and concentrated in soil and distributed into the air via coal fuels, industrial furnaces or active volcanoes. It then returns to the soil, water, or living organisms. Recycling from atmospheric emission, deposition in water reservoirs and exposure and bioaccumulation in animals and humans is a known example of mercury cycle in the environment[
9
] (see Figure
1
).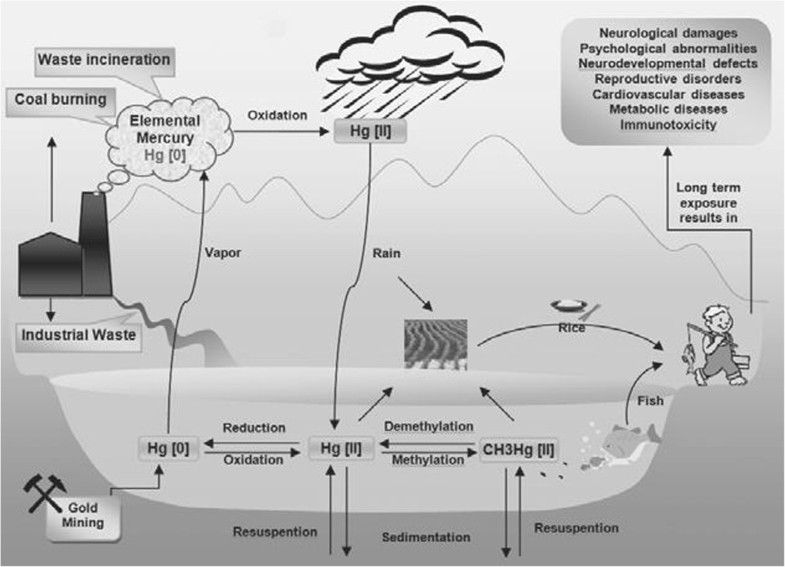 Conclusion
Mercury exposure leads to harmful effects on almost every organ and system. It should be considered as a silent threat to environment and human life, through the world. The main concern is with the more subtle effects arising from prenatal to adult's period, and exist delay development and cognitive changes in children and clinical manifestations in adults. New protocols for the treatment of poisoning such as access to new antidotes, chelating agents, combination therapy of different chelating agents and specific nano-sorbents can help in the management of mercury poisoning. There are risks of mercury compounds for health in the worldwide. Therefore governmental and non-governmental organizations need to identify highly prone people to mercury exposure, and make sure safe food and drinking water.
In addition, it is necessary to pay attention to the safe transport and handling of mercury compounds.
Author contributions
MRR: drafted the review article; MRR: searched in literature and arranged the information; SK: arranged references and edited figures and inserted the references using endnote software; AAM; he is corresponding person and carried out the final writing and editing of the manuscript, sending the manuscript, he responded to the reviewers and corrected and supervised all parts of the manuscript writing All authors read and approved the final manuscript.
Declarations
Acknowledgement
We would like to thank the staffs of Shahid Beheshti Hospital and Zahravy Central library at Babol University of Medical Sciences, Dr. Haji Bahadar from International Campus of Tehran University of Medical sciences, Iran and Miss Yasaman Moghadamnia for editing the text and Dr. Evangeline Foronda for the proof reading.
Authors' Affiliations
(1)
Department of Nursing, Babol University of Medical Sciences, Babol, Iran
(2)
Department of Medical Physics, Kashan University of Medical Sciences, Kashan, Iran
(3)
Department of Pharmacology, Faculty of Medicine, Babol University of Medical Sciences, Babol, Iran
(4)
Cellular and Molecular Research Center, Babol University of Medical Sciences, Babol, Iran
References
Stwertka AA: A Guide to the Elements. Oxford: Oxford University Press, 2Google Scholar
Ibrahim D, Froberg B, Wolf A, Rusyniak DE: Heavy metal poisoning: clinical presentations and pathophysiology. Clin Lab Med. 2006, 26: 67-97. 10.1016/j.cll.2006.02.003. viiiView ArticlePubMedGoogle Scholar
Rafati-Rahimzadeh M, Moghaddamnia AA: Organophosphorus compounds poisoning. J Babol Univ Med Sci. 2010, 12: 71-85. [in Persian]Google Scholar
Moghadamnia AA: Survey of acute suicidal poisoning in the west of Mazandaran province during the years 1994-97. J Mazandaran Univ Med Sci. 1999, 22–23: 18-25. [in Persian]Google Scholar
Moghadamnia AA, Abdollahi M: An epidemiological study of poisoning in northern Islamic Republic of Iran. East Mediterr Health J. 2002, 8: 88-94.PubMedGoogle Scholar
Paudyal BP: Poisoning: pattern and profile of admitted cases in a hospital in central Nepal. JNMA J Nepal Med Assoc. 2005, 44: 92-96.PubMedGoogle Scholar
Rafati-Rahimzadeh M, Rafati-Rahimzadeh M, Moghaddamnia AA: Arsenic compounds toxicity. J Babol Univ Med Sci. 2013, 15: 51-68. [in Persian]Google Scholar
Neustadt J, Pieczenik S: Heavy-metal toxicity-with emphasis on mercury. Integrative Med. 2007, 6: 26-32.Google Scholar
Mostafalou S, Abdollahi M: Environmental pollution by mercury and related health concerns: Renotice of a silent threat. Arh Hig Rada Toksikol. 2013, 64: 179-181.View ArticlePubMedGoogle Scholar
Saint-Phard D, Van Dorsten B: Mercury toxicity: clinical presentations in musculoskeletal medicine. Orthopedics. 2004, 27: 394-397. quiz 398-399PubMedGoogle Scholar
Satoh H: Occupational and enviromental toxicology of mercury and its compounds. Ind Health. 2000, 38: 153-164. 10.2486/indhealth.38.153.View ArticlePubMedGoogle Scholar
Clifton JC: Mercury exposure and public health. Pediatr Clin North Am. 2007, 54: 237-245.View ArticlePubMedGoogle Scholar
Grandjean P, Satoh H, Murata K, Eto K: Adverse effects of methylmercury: environmental health reserch implication. Environ Health Perspect. 2010, 118: 1137-1145. 10.1289/ehp.0901757.PubMed CentralView ArticlePubMedGoogle Scholar
Watanabe C, Satoh H: Evolution of our understanding of methykmercury as a health threat. Environ Health Perspect. 1996, 104: 367-379. 10.1289/ehp.96104s2367.PubMed CentralView ArticlePubMedGoogle Scholar
Asano S, Eto K, Kurisaki E, Gunji H, Hiraiwa K, Sato M, Sato H, Sato H, Hasuike M, Hagiwara N, Wakasa H: Review article: acute inorganic mercury vapor inhalation poisoning. Pathol Int. 2000, 50: 169-174. 10.1046/j.1440-1827.2000.01032.x.View ArticlePubMedGoogle Scholar
Dourson ML, Wullenweber AE, Poirier KA: Uncertainties in the reference dose for methylmercury. Neurotoxicology. 2001, 22: 677-689. 10.1016/S0161-813X(01)00060-2.View ArticlePubMedGoogle Scholar
Tayebi L, Sobhanardakani S, Farmany A, Cheraghi M: Mercury Content in Edible Part of Otolithes Ruber Marketed in Hamadan, Iran. World Acad Sci Eng Technol. 2011, 59: 1527-1529.Google Scholar
Rahimi E, Hajisalehi M, Kazemeini HR, Chakeri A, Khodabakhsh A, Derakhshesh M, Mirdamadi M, Ebadi AG, Rezvani SA, Kashkahi MF: Analysis and determination of mercury, cadmium and lead in canned tuna fish marketed in Iran. Afr J Biotechnol. 2010, 9: 4938-4941.Google Scholar
Askary Sary A, Mohammadi M: Comparison of mercury and cadmium toxicity in fish species from marine water. Res J Fish Hydrobiol. 2012, 7: 14-18.Google Scholar
Yousefzadeh H, Mousavi R, Sadeghi M, Namaei Ghassemi M, Eshaghian K, Moradi VA, Mokhtari MA, Danay G, Fakhary M, Balali-Mood M: Toxic elements of mercury, lead, chromium, arsenic, aluminium and cadmium in drinking and agricultural water wells of Mashhad, Iran. 2011, Penang, Malaysia: Paper presented at: 10th Scientific Congress of the Asia Pacific Association of Medical Toxicology (APAMT)Google Scholar
Karimi A, Moniri F, Nasihatkon A, Zarepoor MJ, Alborzi A: Mercury exposure among residents of a building block in Shiraz, Iran. Environ Res Section. 2002, 88: 41-43. 10.1006/enrs.2001.4273.View ArticleGoogle Scholar
De Mora S, Sheikholeslami MR, Wyse E, Azemard S, Cassi R: An assessment of metal contamination in coastal sediment of the Caspian Sea. Mar Pollut Bull. 2004, 48: 61-77. 10.1016/S0025-326X(03)00285-6.View ArticlePubMedGoogle Scholar
De Mora S, Fowler SW, Wyse E, Azemard S: Distribution of heavy metals in marine organisms from Mosa Bay, Persian Gulf. Int J Environ Res. 2004, 5: 757-762.Google Scholar
Mortazavi MS, Sharifian S: Mercury bioaccumulation in some commercially valuable marine organisms from Mosa Bay. Persian Gulf Int J Environ Res. 2011, 5: 757-762.Google Scholar
Neghab M, Choobineh A, Hassanzadeh J, Ghaderi E: Symptoms of intoxication in dentist associated with exposure to low levels of mercury. Ind Health. 2011, 49: 249-254. 10.2486/indhealth.MS1214.View ArticlePubMedGoogle Scholar
Zolfaghari G, Esmaili-Sari A, Ghasempouri SM: Evaluation of environmental and occuptional exposure to mercury among Iranian dentists. Sci Total Environ. 2007, 381: 59-67. 10.1016/j.scitotenv.2007.03.007.View ArticlePubMedGoogle Scholar
Klaassen CD: Casarett & Daull's toxicology the basic science of poisons. 2007, New York: McGrowHillGoogle Scholar
Nelson LS, Lewin NA, Howland MA, Hoffman RS, Goldfrank LR, Flomenbaum NE: Goldfrank's toxicologic emergencies. 2011, New York: McGrawHillGoogle Scholar
Yee S, Choi BH: Oxidative stress in neurotoxic effects of metylmercury poisoning. Neurotoxicology. 1996, 17: 17-26.PubMedGoogle Scholar
Davidson PW, Myers GJ, Weiss B: Mercury exposure and child development outcomes. Pediatrics. 2004, 113: 1023-1029.PubMedGoogle Scholar
Patrick L: Mercury toxicity and antioxidants: part I: role of glutathione and alpha-lipoic acid in the treatment of mercury toxicity. Altern Med Rev. 2002, 7: 456-471.PubMedGoogle Scholar
Hua MS, Huang CC, Yang WJ: Chronic elemental mercury intoxication: neuropsychological follow-up case study. Brain Inj. 1995, 10: 377-384.View ArticleGoogle Scholar
Alhibshi EA: Subclinical neurotoxicity of mercury: a behavioural, molecular mechanisms and therapeutic perspective. Res J Pharmaceut Biol Chem Sci. 2012, 3: 34-42.Google Scholar
Dantzig PI: A new cutaneous sign of mercury poisoning?. J Am Acad Dermatol. 2003, 49: 1109-1111. 10.1016/S0190-9622(03)02485-X.View ArticlePubMedGoogle Scholar
Boyd AS, Seger D, Vannucci S, Langley M, Abraham JL, King LE: Mercury exposure and cutaneous disease. J Am Acad Dermatol. 2000, 43: 81-90. 10.1067/mjd.2000.106360.View ArticlePubMedGoogle Scholar
Glezos JD, Albrecht JE, Gair RD: Pneumonitis after inhalation of mercury vapours. Can Respir J. 2006, 13: 150-152.PubMed CentralPubMedGoogle Scholar
Lorenzo Dus MJ, Viedma EC, Gutierrez JB, Bayo AL: Pulmonary embolism caused by elemental mercury. Arch Bronconeumol. 2007, 43: 585-587.View ArticlePubMedGoogle Scholar
Brent J, Wallace KL, Burkhart KK, Phillips SD, Donovan JW: Critical care toxicology diagnosis and management of the critically poisoned patient. 2005, Philadelphia: ElesevierMosbyGoogle Scholar
Bates N: Metallic and inorganic mercury poisoning. Emerg Nurse. 2003, 11: 25-31.View ArticlePubMedGoogle Scholar
Steinberg D: The LDL modification hypothesis of atherogenesis: an update. J Lipid Res. 2009, 68: 353-354.Google Scholar
Li D, Mehta JL: Oxidized LDL, a critical factor in atherogenesis. Cardiovasc Res. 2005, 68: 353-354. 10.1016/j.cardiores.2005.09.009.View ArticlePubMedGoogle Scholar
Yoshizawa K, Rimm EB, Steven Morris J, Spate VL, Hsieh CC, Spiegelman D, Stampfer MJ, Willett WC: Mercury and the risk of coronary heart disease in men. N Engl J Med. 2002, 347: 1755-1760. 10.1056/NEJMoa021437.View ArticlePubMedGoogle Scholar
Houston MC: Role of mercury toxicity in hypertension, cardiovascular disease, and stroke. J Clin Hypertens. 2011, 13: 621-627. 10.1111/j.1751-7176.2011.00489.x.View ArticleGoogle Scholar
Park JD, Zheng W: Human exposure and health effects of Inorganic and elemental mercury. JPrev Med Publ Health. 2012, 45: 344-352. 10.3961/jpmph.2012.45.6.344.View ArticleGoogle Scholar
Verma S, Kumar R, Khadwal A, Singhi S: Accidental inorganic mercury chloride poisoning in a 2-year old child. Indian J Pediatr. 2010, 77: 1153-1155. 10.1007/s12098-010-0143-9.View ArticlePubMedGoogle Scholar
Li SJ, Zhang SH, Chen HP, Zeng CH, Zheng CX, Li LS, Liu ZH: Mercury-induced membranous nephropathy: clinical and pathological features. Clin J Am Soc Nephrol. 2010, 5: 439-444. 10.2215/CJN.07571009.PubMed CentralView ArticlePubMedGoogle Scholar
Guzzi GP, Fogazzi GB, Cantu M, Minoia C, Ronchi A, Pigatto PD, Severi G: Dental amalgam, mercury toxicity, and renal autoimmunity. J Environ Pathol Toxicol Oncol. 2008, 27: 147-155. 10.1615/JEnvironPatholToxicolOncol.v27.i2.70.View ArticlePubMedGoogle Scholar
Koh C, Kwong KL, Wong SN: Mercury poisoning: a rare but treatable cause of failure to thrive and developmental regression in an infant. Hong Kong Med J. 2009, 15: 61-64.PubMedGoogle Scholar
Clarkson TW, Magos L, Myers GI: The toxicology of mercury-current exposures and clinical manifest. N Engl J Med. 2003, 349: 1731-1737. 10.1056/NEJMra022471.View ArticlePubMedGoogle Scholar
Bernard S, Enayati A, Redwood L, Roger H, Binstock T: Autism: a novel form of mercury poisoning. Med Hypotheses. 2001, 56: 462-471. 10.1054/mehy.2000.1281.View ArticlePubMedGoogle Scholar
Uchino M, Okajima T, Eto K, Kumamoto T, Mishima I, Ando M: Neurologic features of chronic minamatadisease (organic mercury poisoning) certified at autopsy. Intern Med. 1995, 34: 744-747. 10.2169/internalmedicine.34.744.View ArticlePubMedGoogle Scholar
Broussard LA, Hammett-Stabler CA, Winecker RE, Ropero-Miller JD: The toxicology of mercury. Lab Med. 2002, 33: 614-625. 10.1309/5HY1-V3NE-2LFL-P9MT.View ArticleGoogle Scholar
Tang N, Li YM: Neurotoxic effects in workers of the clinical thermometer manufacture plant. Int J Occup Med Environ Health. 2006, 19: 198-201.View ArticlePubMedGoogle Scholar
Florea AM, Busselberg D: Occurrence, use and potential toxic effects of metals and metal compounds. BioMetals. 2006, 19: 419-427. 10.1007/s10534-005-4451-x.View ArticlePubMedGoogle Scholar
Nuttall KL: Interpreting mercury in blood and urine of individual patients. Ann Clin Lab Sci. 2004, 34: 235-250.PubMedGoogle Scholar
Goldman LR, Shannon MW: Technical report: mercury in the environment: implication for pediatricians. Pediatrics. 2001, 108: 197-205. 10.1542/peds.108.1.197.View ArticlePubMedGoogle Scholar
Miklavcic A, Cuderman P, Mazej D, SnojTratnik J, Krsnik M, Planinsek P, Osredkar J, Horvat M: Biomarkers of low-level mercury exposure through fish consumption in pregnant and lactating Slovenian women. Environ Res. 2011, 111: 1201-1207. 10.1016/j.envres.2011.07.006.View ArticlePubMedGoogle Scholar
Grandjean P, Budtz-Jorgensen E: Total imprecision of exposure biomarkers: implications for calculating exposure limits. Am J Ind Med. 2007, 50: 712-719. 10.1002/ajim.20474.PubMed CentralView ArticlePubMedGoogle Scholar
Sakamoto M, Kaneoka T, Murata K, Nakai K, Satoh H, Akagi H: Correlations between mercury concentrations in umbilical cord tissue and other biomarkers of fetal exposure to methylmercury in the Japanese population. Environ Res. 2007, 103: 106-111. 10.1016/j.envres.2006.03.004.View ArticlePubMedGoogle Scholar
Brockman JD, Raymond LJ, Ralston CR, Robertson JD, Bodkin N, Sharp N, Ralston NVC: The nail as a noninvasive indicator of methylmercury exposures and mercury/selenium molar ratios in brain, kidney, and livers of long-evans rats. Biol Trace Elem Res. 2011, 144: 812-820. 10.1007/s12011-011-9019-8.View ArticlePubMedGoogle Scholar
Linkov I, Kyle Satterstrom F, Corey LM: Nanotoxicology and nanomedicine: making hard decisions. Nanomedicine. 2008, 4: 167-171. 10.1016/j.nano.2008.01.001.View ArticlePubMedGoogle Scholar
Surendiran A, Sandhiya S, Pradhan SC, Adithan C: Novel applications of nanotechnology in medicine. Indian J Med Res. 2009, 130: 689-701.PubMedGoogle Scholar
Zuo X, Wu H, Toh J, YauLi SF: Mechanism of mercury detection based on interaction of single- strand DNA and hybridized DNA with gold nanoparticles. Talanta. 2010, 82: 1642-1646. 10.1016/j.talanta.2010.07.031.View ArticlePubMedGoogle Scholar
Baptista P, Pereira E, Eaton P, Doria G, Miranda A, Gomes I, Quaresma P, Franco R: Gold nanoparticles for the development of clinical diagnosis method. Anal Bioanal Chem. 2008, 391: 943-950. 10.1007/s00216-007-1768-z.View ArticlePubMedGoogle Scholar
Ahmed MA, Hasan N, Mohiuddin S: Silver nanoparticles: green synthesis, characterization, and their usage in determination of mercury contamination in seafoods. Hindawi Publ Corp ISRN Nanotechnol. 2014, 2014: 5-Google Scholar
Lingxin C, Nan Q, Xiaokun W, Ling C, Huiyan Y, Jinhua L: Ultrasensitive surface-enhanced Raman scattering nanosensor for mercury ion detection based on functionalized silver nanoparticles. RSC Adv. 2014, 2014: 15055-15060.Google Scholar
Ramesh GV, Radhakrishnan TP: A universal sensor for mercury (Hg, HgI, HgII) based on silver nanoparticle-embedded polymer thin film. ACS Appl Mater Interfaces. 2011, 3: 988-994. 10.1021/am200023w.View ArticlePubMedGoogle Scholar
Deng L, Ouyang X, Jin J, Ma C, Jiang Y, Zheng J, Li J, Li Y, Tan W, Yang R: Exploiting the higher specificity of silver amalgamation: selective detection of mercury(II) by forming Ag/Hg amalgam. Anal Chem. 2013, 85: 8594-8600. 10.1021/ac401408m.View ArticlePubMedGoogle Scholar
Lapus RM: Activated charcoal for pediatric poisonings: the universal antidote. Curr Opin Pediatr. 2007, 19: 216-222. 10.1097/MOP.0b013e32801da2a9.View ArticlePubMedGoogle Scholar
Mohammad-Khah A, Ansari R: Activated charcoal; preparation, characterization and applications: a review article. Int J Chem Tech Res. 2009, 1: 2745-2788.Google Scholar
Katzung BG, Masters SB, Trevor AJ: Basic and clinical pharmacology. 2009, McGrawHill: NewYorkGoogle Scholar
Yusef M, Neal R, Aykin N, Ercal N: High performance liquid chromatography analysis of D-penicillamine by derivatization with N-(1-pyrenyl) maleimide(NPM). Biomed Chromatogr. 2000, 14: 535-540. 10.1002/1099-0801(200012)14:8<535::AID-BMC11>3.0.CO;2-G.View ArticleGoogle Scholar
Ford MD, Delaney KA, Ling LJ, Erickson T: Clinical toxicology. 2001, Philadelphia: W.B. Saunders CompanyGoogle Scholar
Vilensky JA, Redman K: British anti-lewisite(dimercaprol): an amazing history. Ann Emerg Med. 2003, 41: 378-383. 10.1067/mem.2003.72.View ArticlePubMedGoogle Scholar
Graeme KA, Pollack CV: Heavy metal toxicity, part I: arsenic and mercury. J Emerg Med. 1998, 16: 45-56. 10.1016/S0736-4679(97)00241-2.View ArticlePubMedGoogle Scholar
Guzzi GP, LaPorta CAM: Molecular mechanisms triggered by mercury. Toxicology. 2008, 244: 1-12. 10.1016/j.tox.2007.11.002.View ArticlePubMedGoogle Scholar
Rooney JPK: The role of thiols, dithiols, nutritional factors and interacting ligands in the toxicology of mercury. Toxicology. 2007, 234: 145-156. 10.1016/j.tox.2007.02.016.View ArticlePubMedGoogle Scholar
Forman J, Moline J, Cernichiari E, Sayegh S, Torres C, Landrigan MM, Hudson J, Adel HN, Landrigan PJ: A cluster of pediatric metallic mercury exposure cases treated with meso-2,3-dimercaptosuccinic acid (DMSA). Environ Health Perspect. 2000, 108: 575-577. 10.1289/ehp.00108575.PubMed CentralView ArticlePubMedGoogle Scholar
Vamnes JS, Eide R, Isrenn R, Hol PJ, Gjerdet NR: Blood mercury following DMPS administration to subjects with and without dental amalgam. Sci Total Environ. 2003, 308: 63-71. 10.1016/S0048-9697(02)00630-7.View ArticlePubMedGoogle Scholar
Pingree SD, Simmonds L, Woods JS: Effects of 2,3-dimercapto-1-propanesulfonic acid (DMPS) on tissue and urine mercury levels following prolonged methylmercury exposure in rats. Toxicol Sci. 2001, 61: 224-233. 10.1093/toxsci/61.2.224.View ArticlePubMedGoogle Scholar
Flora SJS, Pachauri V: Chelation in metal intoxication. Int J Environ Res Publ Health. 2010, 7: 2745-2788.View ArticleGoogle Scholar
Miller AL: Imercaptosuccinic acid (DMSA), a non-toxic, water-soluble treatment for heavy metal toxicity. Altern Med Rev. 1998, 3: 199-207.PubMedGoogle Scholar
Flora SJS, Chouhan S, Kannon GM, Mittal M, Swarnker H: Combined administration of taurine and monoisoamyl DMSA protects arsenic induced oxidative injury in rats. Oxid Med Cell Longev. 2008, 1: 39-45. 10.4161/oxim.1.1.6481.PubMed CentralView ArticlePubMedGoogle Scholar
Flora SJS, Bhadauria S, Pachauri V, Yadav A: Monoisoamyl 2,3-dimercaptosuccinic acid (MiADMSA) demonstrates higher efficacy by oral route in reversing arsenic toxicity: a pharmacokinetic approach. Basic Clin Toxicol. 2012, 110: 449-459. 10.1111/j.1742-7843.2011.00836.x.View ArticleGoogle Scholar
Bhadauria S, Flora SJS: Arsenic induced inhibition of δ-aminolevulinate dehydratase activity in rat blood and its response to meso 2,3-dimercaptosuccinic acid and monoisoamyl DMSA. Biomed Environ Sci. 2004, 17: 101-108.PubMedGoogle Scholar
Flora SJS: Metal poisoning: threat and management. Al Ameen J Med Sci. 2009, 2: 4-26.Google Scholar
Bhadauria S, Flora SJS: Response of arsenic-induced oxidative stress, DNA damage, and metal imbalance to combined administration of DMSA and monoisoamyl-DMSA during chronic arsenic poisoning in rats. Cell Biol Toxicol. 2007, 23: 91-104. 10.1007/s10565-006-0135-8.View ArticlePubMedGoogle Scholar
Russi G, Marson P: Urgent plasma exchange: how, where and when. Blood Transfus. 2011, 9: 356-361.PubMed CentralPubMedGoogle Scholar
Nenov VD, Marinov P, Sabeva J, Nenov DS: Current application of plasmapheresis in clinical toxicology. Nephrol Dial Transplant. 2003, 18: v56-v58. 10.1093/ndt/gfg1049.View ArticlePubMedGoogle Scholar
Dargan PI, Giles LJ, Wallace CI, Thomson AH, Beale RJ, Jones AL: Case report: severe mercuric sulphate poisoning treated with 2,3-dimercatopropane-1-sulphonate and haemodiafiltration. Crit Care. 2003, 7: R1-R6. 10.1186/cc1887.PubMed CentralView ArticlePubMedGoogle Scholar
Xue HB, Stumm W, Sigg L: The binding of heavy metals to algal surfaces. Water Res. 1988, 22: 917-10.1016/0043-1354(88)90029-2.View ArticleGoogle Scholar
Sachdeva S, Sharma A: Azolla: role in phytoremediation of heavy metals. Int J Eng Sci. 2012, 1: 2277-9698.Google Scholar
Tsezos M: Biosorption of Radioactive Species. Biosorption of Heavy Metals. Edited by: Volesky B. 1990, Boston: CRC Press, 45-50.Google Scholar
Omura Y: Beckman SL Role of mercury (Hg) in resistant infections & effective treatment of Chlamydia trachomatis and Herpes family viral infections (and potential treatment for cancer) by removing localized Hg deposits with Chinese parsley and delivering effective antibiotics using various drug uptake enhancement methods. Acupunct Electrother Res. 1995, 20: 195-229.PubMedGoogle Scholar
Omura Y, Shimotsuura Y, Fukuoka A, Fukuoka H, Nomoto T: Significant mercury deposits in internal organs following the removal of dental amalgam, & development of pre-cancer on the gingiva and the sides of the tongue and their represented organs as a result of inadvertent exposure to strong curing light (used to solidify synthetic dental filling material) & effective treatment: a clinical case report, along with organ representation areas for each tooth. Acupunct Electrother Res. 1996, 21: 133-160.PubMedGoogle Scholar
Nolan EM, Lippard SJ: The Application of Fluorescence Spectroscopy in the Mercury Ion Detection. Chem Rev. 2008, 108: 3443-10.1021/cr068000q.View ArticlePubMedGoogle Scholar
Pandy J, Khare R, Kamboj M, Khare S, Singh R: Potential of nanotechnology for the treatment of waste water. Asian J Biochem Pharmaceut Res. 2011, 1: 272-282.Google Scholar
Qu X, Alvarez PJJ, Li Q: Applications of nanotechnology in water and wastewater treatment. Water Res. 2013, 47: 3931-3946. 10.1016/j.watres.2012.09.058.View ArticlePubMedGoogle Scholar
Copyright
© Rafati-Rahimzadeh et al.; licensee BioMed Central Ltd. 2014
This article is published under license to BioMed Central Ltd. This is an Open Access article distributed under the terms of the Creative Commons Attribution License (http://creativecommons.org/licenses/by/2.0), which permits unrestricted use, distribution, and reproduction in any medium, provided the original work is properly credited. The Creative Commons Public Domain Dedication waiver (http://creativecommons.org/publicdomain/zero/1.0/) applies to the data made available in this article, unless otherwise stated.